Trix CRM Software for Helpdesk
Customer relation management software is really important for growth of your business especially if your enterprise business specifies customers as your concern. Providing marketing and sales solutions with a lot of insight, perspective to make better products and services.
Good CRM software like trix CRM make sure you can manage all marketing channels with multi device support. Full blown TrixCRM web based solution for your business.
Web Based Solution
TrixCRM solution suite is a full blown web based CRM solution covering operation to sales & marketing perspective.
Communicator
Pre built in communicator:
Email / System / SMS / Mobility
Mobility Platform
Supports both Android & iOS
Social Media Engagement
TrixCRM provides social media engagement
Facebook
Instagram
Twitter
WhatsApp
Omni Channels
TrixCRM covers various channels
Telephony system
SMS
Email
Web self care
Social media
Digital fax
Mobility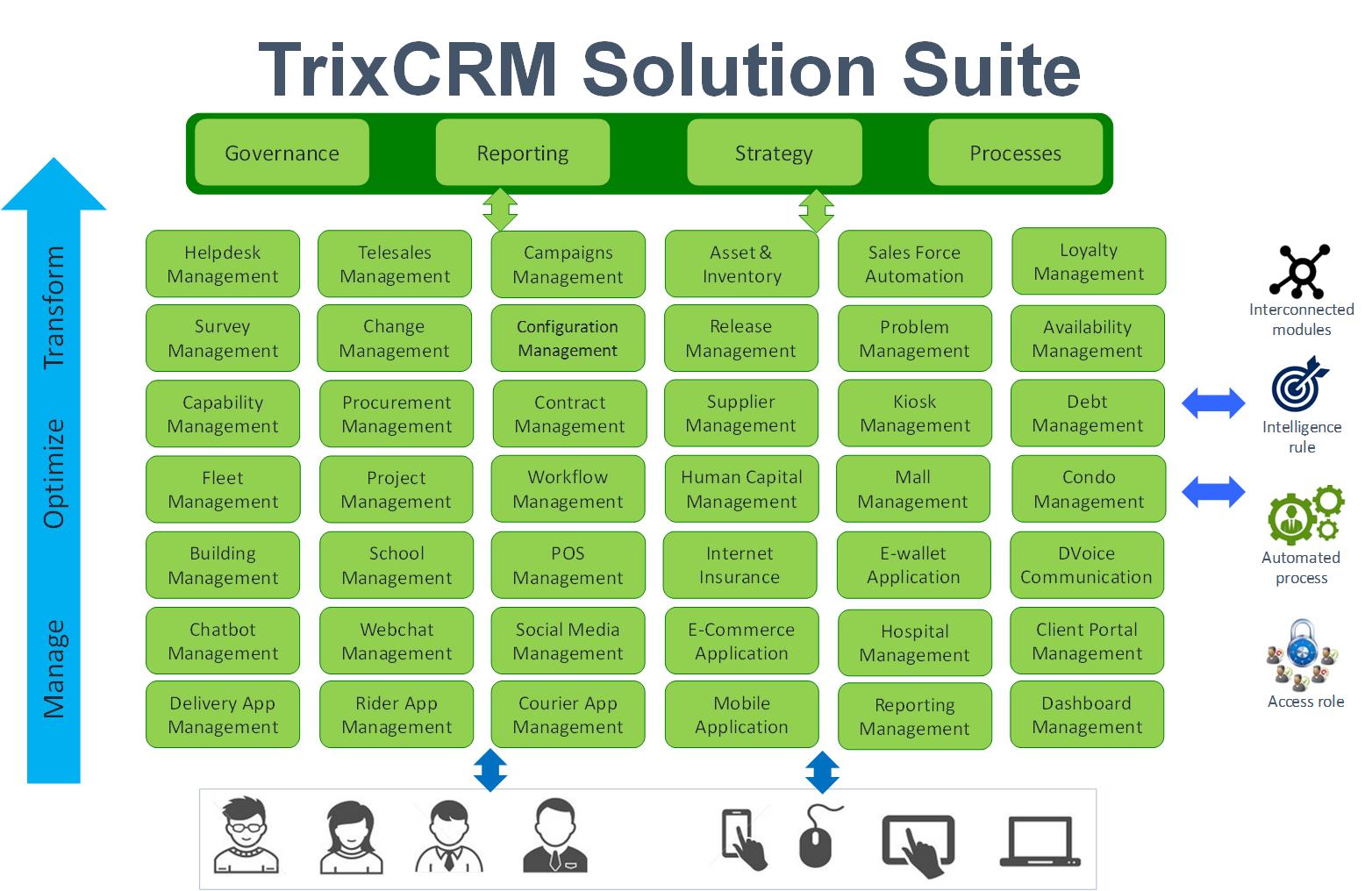 Sell More Product and Services with TrixCRM
TrixCRM is able to operate with many data points as your business insight. You can use this insight to make better strategy and plan that will grow your sales and services. Each business needs software for help desks that help productivity.
Interconnected Modules: There are many modules and add-on you can use.
Intelligence Rules: Define your own business rules point.
Automated Process: Able to automate workflow and make a better productivity for your staff.
Give Access Roles: You can give access to each different team and roles
Customer Relation Management Software Features and Benefits
Web-based Systems: CRM that can be accessed with web-based technology covering all marketing and sales perspectives.
Social Media Management Software: Provide engagement management systems, that would include many social media such as Facebook, Instagram, Twitter, Whatsapp, etc.
Omnichannel CRM Solutions: Manage various channels with one, single experience. Easily manage telephony systems, SMS, Email, Social Media, Digital Fax, mobility and web self care.
Multi-platform Support: Mobile support both iOS and Android.
Pre-Built Communicator: Available for more communication systems, email, system, sms, and mobility.
Get to know your needs for CRM software helpdesk and get your free consultation with contact us here.