Maximizing Customer Satisfaction with TRIX Customer Relationship Management Software
TrixCRM Suite is the state of art solution designed with the ultimate goal of assisting organizations to manage its , Account, Sales, Marketing and Service operations. Unified Communications built to the aim solution at an affordable investment. CRM unites multiple key disciplines into a single coherent discipline with the thought of streamlining the business processes to enhance your business operation.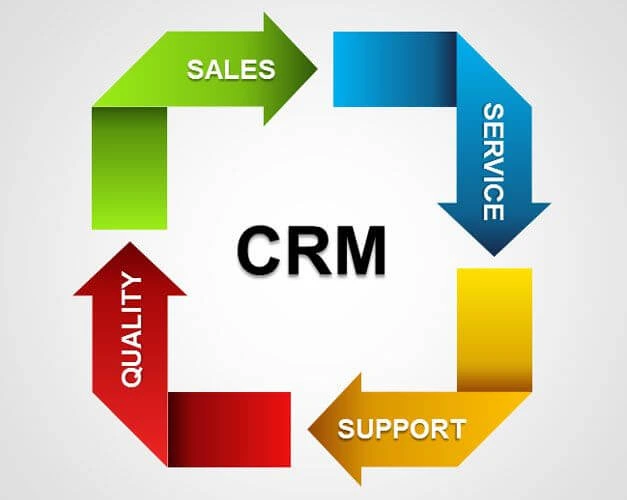 All in One Customer Relationship Management Software
TrixCRM is a web-based driven solution which empowers the latest technology to provide the additional cutting edge to the clients in managing their own customers in which are the biggest asset in the organization. The solution is designed with user-friendliness as main prioritization in order to provide our clients 360 degree view of their own customers behaviors. The best software for helpdesk you can choose.
Call Center Management (full integrated with software call center)
Helpdesk Management
Outbound Management
Campaign Management
Loyalty Program Management
SMM Software and Tools
Debt Collection Management
Partner Relationship Management
Sales Force Automation
Digital Signage
Kiosk Management
Social CRM
Traditional CRM focus to collect and manage static customer data, but can do more than that. With Social CRM you can focus more in the engagement, Customer Service (solving customer problems) and Marketing Strategy.
Your business would be easy to integrate with trix social integration. Trix CRM is able to handle many tasks with a single app, because there are many tools inside.
Do More Social With Less Effort
Social media management software would be integrated with trix CRM systems. With omnichannel CRM you can connect email, Telephony, Social Network, Instant Messenger that would be helpful for ticketing and desk support. Easy to deploy, use, and maintenance.
Fast Live Chat Environment
Fast live chat support with robust systems and integration. You could integrate with other systems and environments. All in One social media management software for helpdesk you want to use.
Collaborate as a Team
Respond to your customer fast with collaboration tools as a Team. Boost your customer support and services sentiment in your social channel. Discuss any customer problem with your coworker with trix crm tools and solve their problem as fast as possible.
Customer Satisfaction
Trix CRM also provides very useful tools for voice recording, and searching various chat logs within a second. This data can be useful to know more about your customer. Bring what your customer wants and boost your business to the next level.

Features and Benefits
Choosing Trix as your help desk solution and automate your customer support to the next level. Trix will give you ticketing software to automate your communication channels such as email, and social media. Create a predefined chatbot solution to give the most asked question within a minute with Trix ticketing software.
Easily connect with customer's ticketing software system then organize and tracks issues for faster solutions. Create your own knowledge base for FAQ or guide for a better understanding of your products and services. Engage your customer with agents to escalate issues to a higher level, grow your business with better issue tracking systems.
What Makes Trix CRM a Good Helpdesk Systems?
Automate and optimize your customer support
Automate repetitive tasks and optimize your response time with fast result. Create automated workflows to accelerate your processes. Complete your daily to-do list even faster.
Alert Announcement
It will be able to post any latest or urgent announcement to notify users on the floor and receive or acknowledge on the incoming announcement seamlessly without any hassles.
Concurrent Consignment Management
Assign multiple tasks for a single incident request that is received. It allows you to link multiple sub change requests to the main ticket, as such only after all the sub change requests are closed, then only will the parent ticket be closed.
Action Management
It keeps track on all the activities and actions needed to be taken for a dedicated customer during the interactions.
Incident Tracking
Reduce service disruptions and load, meet your SLAs, improve productivity, and manage the entire life cycle of a ticket with better management.
Incoming Message
It provides and allows users the ability to receive and review each alert either email or sms before assigning the email/sms to a change request. This will eliminated auto-generation of ticket due to spam mail/sms that is received.
Web Self Care
This module is an independent and yet integrated module within the TrixCRM solution suite where it provides the touch point flexibilities for the customers to communicate with the helpdesk agents. It is a web portal where it allows the customers to directly create, track and monitor the incident/change/configuration.
Follow up
This module is an independent and yet integrated module within the TrixCRM solution suite where it provides the touch point flexibilities for the customers to communicate with the helpdesk agents. It is a web portal where it allows the customers to directly create, track and monitor the incident/change/configuration.
Email Management
An email ticketing system helps you convert customer emails to tickets, and compiles and organizes them in a single place so no customer complaint goes unnoticed. It helps you automate tasks, set up workflow and SLA rules, and monitor how many emails come in and how many responses go out.
Mass Closure option
To assist the agents to lodge similar incidents easily without having to create incident from scratch for similar incidents where the agents can only do it through mass incident creation.
Quick Menus
To assist the operation team to increase the efficiency and performance of the agents and also to reduce the average handling time for each incident.
Assignment Management
To manage the escalation of the cases to appropriate and rightful owner.
SLA Agreement
SLA provides an interface for the system administrator to create different Service Level Agreements for the escalation process. This will allow the administrator to set different SLA based on customer category, respond time, category, sub-category, priority and more.
Process Management
Is equipped with a workflow engine used to automatically notify users and internal staff on status of their change request, appointments, leads, reminders, follow up and more via email or SMS.
Account and Contact Management
To supports a full integrated and detail view of customer information. It's allows you to map the customer organization structure and interlink customer ID with the change requests.
Chatbot Solutions With Pre Built in Communicator
Automate your communication with manageable email/system/sms/mobility. Make your costomer services response faster with chatbot solution. Our enterprise collaboration tools suit and compatible with any teams.
Social Engagement Systems
Managable social management software, facebook, instagram, twitter, whatsapp, etc.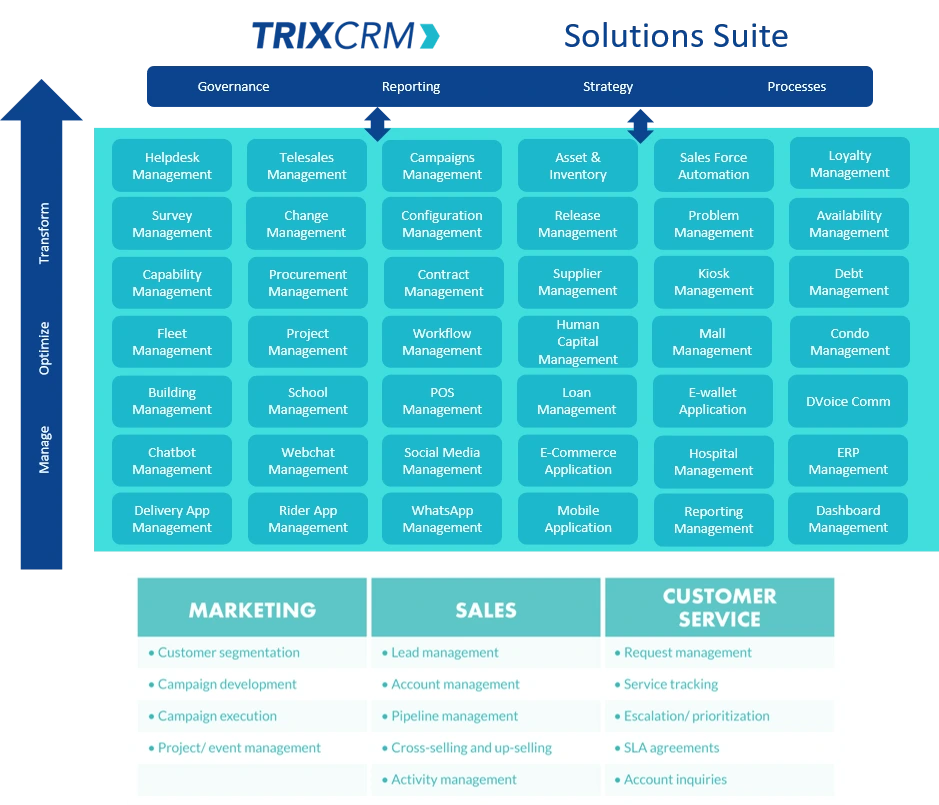 Frequently Asked Questions
Q: What is Social Media Management Software?
A: SMMS or Social Media Management Software is a tool in the form of an application program that provides facilities for an organization, company, or business to manage social media easily. Usually this SMMS has various integrations, for example with a ticket management system, CRM (Customer Relationship Software) to engage with business customers.
Q: What is Customer Relation Management Software?
A: CRM or Customer relation management Software is an application or tool that makes it easy for an organization, company, and business to offer a better customer experience with the aim of building the best customer relationships. Some CRM features include recording transactions from customers, providing support services both pre-sales and after sales. In addition, currently CRM is also widely integrated with ticketing software that helps manage problems with customers.
Q: Difference CRM vs SMMS?
A: Technological developments have made the distinction between Customer Relationship Management Software and Social Media Management Software thinner. The main difference between CRM and SMMS itself lies in the focus on data usage, where SMM is used to track various data from customer interests via social media. SMM which is integrated with CRM is also called Social CRM, one of the developments of traditional CRM.
Q: What is a Chatbot Solution?
A: TIn CRM and SMM, a Chatbot solution is an automated platform used to provide feedback to customers. Social media channels are often one of the main destinations for educating and introducing products and services. Chatbot solutions can provide multiple answers to the most frequently asked questions. This automated solution is one of the simplest ticketing management.