Automated Your Business With Chatbot Solution
Suria offers a chatbot solution with integration to Trix CRM software for engaging customers through conversational intelligent responses. Automated customer support systems within your business with "Question and Answer Bot".
Our pre-built communicator can be used as Q&A Bots that will present a series of questions based on the answers selected. Q&A Bots is programmable bots that perform solving problem by providing answer based on questions asked by the customer and users.
Our chatbot solution is part of Trix CRM which has an automatic ticket completion feature. With a chatbot solution, your business will run more effectively, and efficiently, reducing the streamlined process of solving customer problems.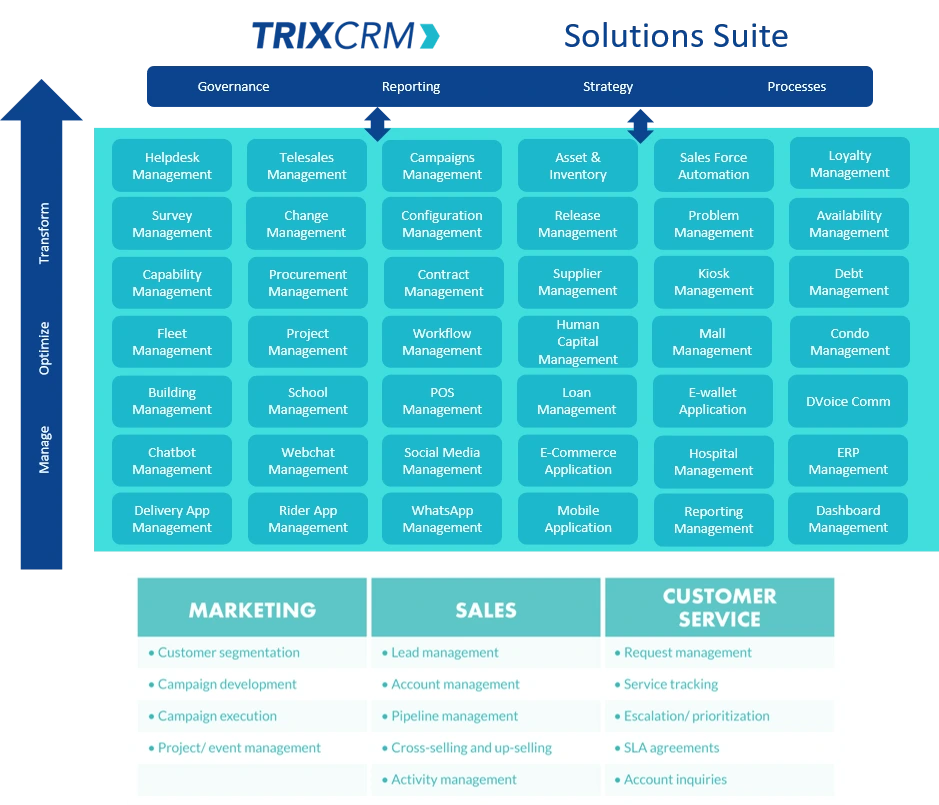 Chatbot That Solves Your Customer Problems
Eliminate your customer pain point with a faster-automated solution. Eliminate manual responses by using the FAQ bot to answer all questions and concerns. You can set keyword triggers and unlimited flows to guide your customer and prospect. Combine chatbots with your agents via human-robot design.
Logic-Based Automation and Messaging
Set automation whether it is for collection, reminder, marketing, remarketing, and more. You can trigger an answering program based on the question you defined. Improve your operational efficiency.
Grow Your Customer Loyalty
Build a pre-built communicator that you need. You can collect many tickets from any channel such as WhatsApp, Instagram, Facebook, etc. Customize your bot flows and prospect your customer for better loyalty results.
Satisfaction
Intuitive menus will automatically answer customer questions. Escalates inquiries with high-priority cases from bots to humans. You can choose automatic, semi-automatic, and manual-based systems. Allow agents to hand over to other agents on shifting periods.

Streamlined your Customer Support
Make your customer support more effective with our Chatbot Solution and streamlined your support systems to make better business. Get insight with many data and make better decisions to grow your customer and prospect loyalty. Move your manual process and streamlined your business process right now.
FAQ (Frequently Asked Questions)
Q: What is Chatbot Solution
A:Chatbot Solution is a modern software solution to automate engagement with prospects and visitors. You can solve many problems that sue via many channels with an automated bots process. There are many bot solutions such as FAQ-based bots.
Q: What Problem Does Chatbot Solve?
A: Chatbot allows you to engage website visitors that align with your business. In customer support cases, the chatbot will be able to give solutions to customers. It will reduce the manual processes to boost your productivity.
Q: What is CRM in Chatbot?
A: CRM (Customer Relationship Management) is a system that supports businesses to build interactions with prospects and streamline processes by collecting information to analyze and better understand the customer for improvement. Chatbot helps make the interaction process more effective and efficient because it reduces manual processes.
Q: Are Chatbots Part of CRM?
A: Chatbots can be applied on many platforms such as CRM. CRM Chatbots can automate and simplify data entry with faster access to data, enhance user experience, and empower sales reps to focus more on the business goals.