OceanX Cloud-based Enterprise Content Management (ECM)
Support Cloud-based and On-premise Implementation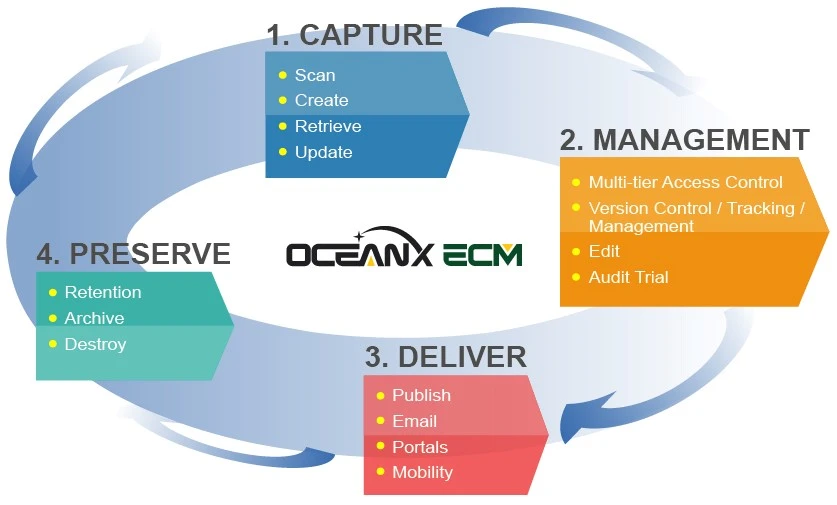 OceanX ECM (Enterprise Content Management) support the cloud-based and multi-tenancy implementation. It is the content management solution where organization can securely discuss, share, and collaborate on critical business content. OceanX ECM refers to the process of information lifecycle started from creation, management, publication, archival and eventually disposal.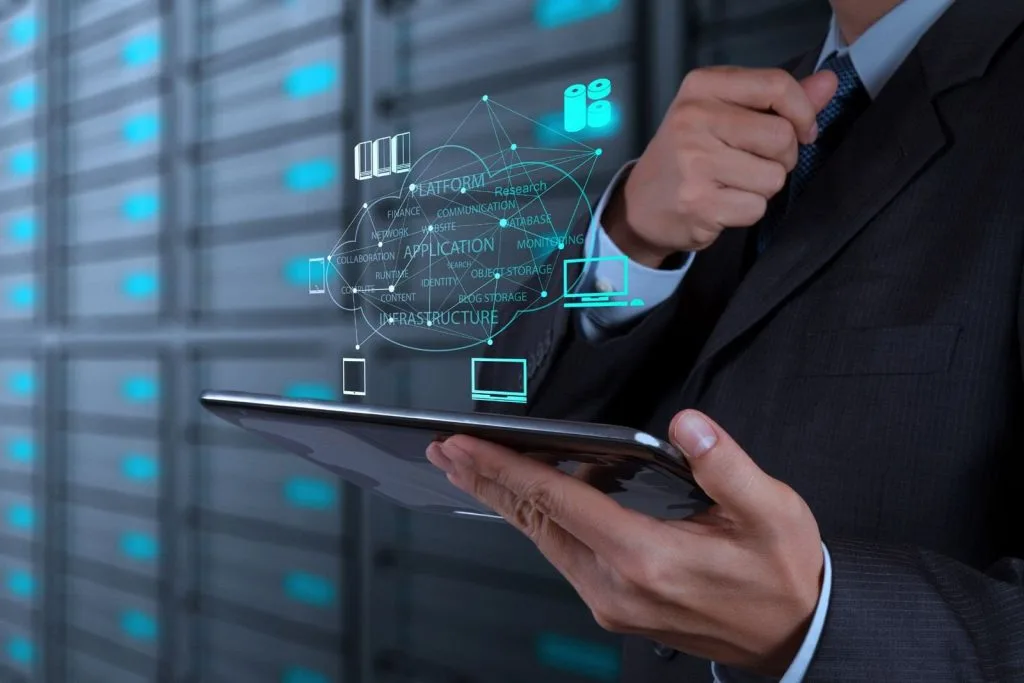 Why use OceanX ECM
OceanX ECM is aimed to make the management of corporate information easier through simplifying storage, security, version control, process routing, and retention. With OceanX ECM, organizations can improve the efficiency, have better control, and reduce business costs.
OceanX ECM not only provides user-friendly interface which integrates with Outlook, it makes email management much easier. Moreover, it provides web-based interface for users to access any devices.
Features of OceanX ECM
Cloud-based / On-premise System
Multi-platforms
Multi-tenancy
Patented BuildingBlocks Function
Self-defined User Interface
Outlook-like interface
Outlook Add-in
Office Add-in
Responsive Web Interface
Unicode
Universal Viewer
Powerful Search Engine
Intelligent Project Folder and Search Folder
Tightly Integrated with OceanX DPC
Tightly Integrated with Oceanfax
Features of OceanX ECM
Document Processing Centre (DPC)
Document Management
Email Management
Record Management
Knowledge Management

Cloud-based V.S. On-Premise Implementation of OceanX ECM
OceanX ECM can support cloud-based implementation using the latest technologies. It can also be implemented on premises like the others traditional ECM solutions.
| Consideration | Cloud | On-Premise |
| --- | --- | --- |
| IT Infrastructure | Limited or no internal IT resources | Established IT support with software domain expertise. Servers and contents located in customer company |
| User Interface | Web Interface that enables an intuitive, customizable interface | Mature technology with a traditional Windows / Web interfaces |
| Software / Hardware Investment | One predictable monthly payment covers everything | Needs to purchase software license and hardware |
| Software Customization | Not heavy customization | In-depth customization and integration capabilities |
| Implementation Time | Varies by project size and scope, but implementation time tends to be less than on-premise solutions | Varies by project size and scope, but implementation time tends to be a bit longer and more involved |
| Operating vs. Capital Expenses | Operational expense | Capital expenses |
The cloud–based OceanX ECM has many benefits such as:
Fast Start-up - Up-and-Running in days or weeks, not months or even years like on-premises systems. Hardware or software is not required to be installed, and no servers or building of data centers needed.
Reliability - It is more reliable since well-designed cloud computing will be suitable for business continuity and disaster recovery when multiple redundant sites are used.
Scalability - Cloud can scale to your needs through on-demand provisioning of resources on a fine-grained, self-service basis near real-time, without users having to engineer for peak loads.
Lifecycle management - Cloud computing applications are easier, because they do not need to be installed on each user's computer. They are easier to support and to improve, as the changes reach the clients instantly.